Stanley Winfield was born in August of 1923 in Calgary, Alberta. He left Calgary in 1941 to join the Royal Canadian Air Force, where he served as a private and aircraftsman in Halifax.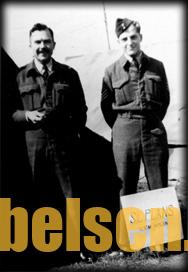 Aplin (L) and Stanley Winfield (R)
In October, 1944 he left Halifax for England, where he was posted to various air stations. In May 1945 he was stationed at Celle, Germany, and served as sergeant with the squadron leader E.M. (Ted) Aplin, as part of the Royal Air Force 84 Group Disarmament HQ Unit that was responsible for ensuring that the Luftwaffe was incapacitated in northwest Germany. Winfield visited the Bergen-Belsen concentration camp several times after its liberation, got to know some of the camp's residents and worked with Aplin to organize shipments of food from Canada for distribution at the camp.
Prior to the Lüneburg war crimes trial in the fall of 1945, prisoners at Celle, Germany—most of whom had been guards and functionary workers at Bergen-Belsen, Auschwitz and other camps—were paraded in a courtyard four times a day, at times posted for public viewing; Winfield went to the prison for these public viewings.
After the war, Winfield attended law school at UBC; he graduated in 1952. Winfield and Ted Aplin remained close until Aplin's death in 1973. Winfield continued his military service with the Canadian Intelligence Corps. He was director and secretary of the [Sir Winston] Churchill Society of BC and president of the Jewish Historical Society of BC. He and his wife, Odile, had two children, and spent their retirement years in New Westminster.
In 1995, he returned to Belsen for the fiftieth anniversary of the liberation of the camp. Stanley Winfield died in 2011.
4,139 total views