Squadron Leader Ted Aplin (RCAF)
Edwin Miller Aplin (known as Ted) emmigrated to Canada in 1930 where he met his future wife Elinor Grave Leef. They married on 4 July 1931.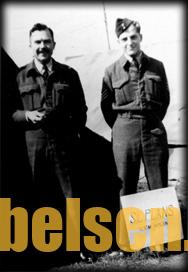 Squadron Leader Ted Aplin (L) with RCAF Sergeant Stanley Winfield
Date Of Birth : 01/04/1909
Place Of Birth : Teignmouth, UK
Position : 84 Group R.C.A.F.
Died : 02/06/1973
01 May 1942 he enlisted in the Royal Canadian Air Force and was stationed in Toronto, Camp Borden, Trenton and Belleville.
December 1944, he left Canada for England and, after the German surrender, was stationed at Celle, as part of Royal Air Force 84 Group Disarmament HQ Unit which was responsible for ensuring that the Luftwaffe was incapacitated in northwest Germany.
Being stationed near the Bergen-Belsen Concentration Camp, Aplin first visited the camp in June 1945 and became interested in the welfare of the camp victims, many of whom were interned at Bergen-Belsen long after its liberation.
To aid the survivors, he organized a system using the Armed Forces Postal System to put internees in contact with their families and friends, and collected goods from Canadian families for distribution at the camp. His work at Bergen-Belsen led many survivors to refer to him as "The Angel of Belsen"
Stockings for the Ladies.
Based on the family letters of Attila Clemann the tells the true story of Ted Aplin and his colleague Stanley Winfield during their stay in post-war Germany. Sent as part of the Allied forces Disarmament Coalition they were stationed in Celle not far from the now infamous Bergen Belsen Concentration Camp. Ted befriended refugees stuck in the camp and against direct Air Force orders did his best to assist them. He developed an ad-hoc mail system through the RCAF to send a receive packages for the refugees. He used RCAF vehicles and supplies to bring orphans out on picnics away from the camp. And he was responsible for numerous family reunions. He was greeted with a heros welcome in Toronto upon his return. He and his secretary Stanley Winfield became long friends after their work overseas and it is largely because of Stanley's efforts that this story is known now.
3,774 total views