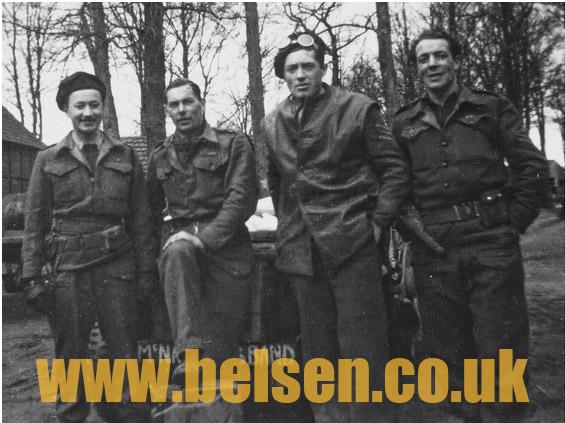 Keith William MacLellan (1920-1998) was a modest, quiet man who didn't like to draw attention to himself.

Yet in his actions he showed himself in many ways to be heroic. During the Second World War, the Aylmer native was one of only two Canadians in the elite British 1st Special Air Service, which went behind enemy lines in Germany. He was a liberator of the Bergen-Belsen concentration camp. And, as a longtime diplomat with the Canadian foreign service, he served in several world hotspots and played a role in shaping Canada's foreign policy in Asia, Europe and the Middle East.
MacLellan's memory was honoured on Sunday by his regiment, the Royal Montreal Regiment, at its armoury in Westmount following the RMR's Remembrance Day parade and a ceremony at the Westmount cenotaph that included readings and prayers and the laying of several wreaths — including one by his family.
Back at the armoury, a large framed tribute was unveiled featuring a replica of MacLellan's medals, two photographs of him in action – one as a solider behind enemy lines in Germany and another during a diplomatic posting in the mid-1960s in Laos, along with a short biography and a dagger MacLellan had taken from a captured German officer. A second weapon, a German Luger pistol, was also donated by the family. The tribute will hang in the museum in the RMR armoury.
"He was a humble man and would be quite embarrassed by the attention," said Dr. Anne-Marie MacLellan, one of his four children, three of whom attended the event along with other family members. She and her older brother, Dr. Keith MacLellan, are both physicians; the youngest sibling, Andrew MacLellan, who lives in England and attended the ceremony wearing the maroon beret of the British Parachute Regiment in which he served, wrote his father's Wikipedia entry and spoke briefly at the ceremony.
MacLellan, who grew up in Montreal, was at McGill University when the war interrupted his studies, as it did those of so many of his generation. He joined the RMR in 1942, was commissioned as an officer and sent to the United Kingdom. In 1944, he transferred to the 1st SAS and was part of small jeep-mounted units that operated behind enemy lines in Belgium, the Netherlands, Germany and Norway.
Between December of 1944 and January of 1945, he was part of a group sent to hunt down the commandos of the notorious Otto Skorzeny, a lieutenant-colonel in the German Waffen-SS; in March to May of 1945, his unit operated behind the German lines in support of the advance of Allied armies; he was part of the SAS detachment that discovered the Bergen-Belsen Nazi concentration camp in April and, from May to August, he was part of Operation Apostle in Norway, where the SAS disarmed about 300,000 German soldiers.
MacLellan met his future wife, a Belgian countess named Marie Antoinette LeGrelle, in 1944 in Antwerp; they married in 1946, when he was a student at Oxford. He studied philosophy, politics and economics at Oxford, earned his masters in 1947 and returned to Canada. In 1950 he joined Canada's external affairs department and had a diplomatic career "as extraordinary as his war experiences."
5,013 total views