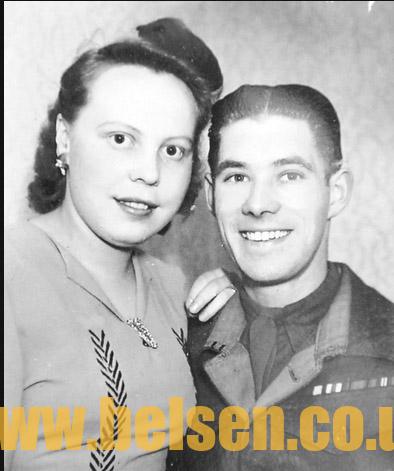 From his teens until his death last week at the age of 95, Jos Mark was committed to his country and to those who gave their lives to protect it.
Major Mark was Cumbria's most-decorated war veteran. He saw action in Normandy, helped relieve British soldiers at Arnhem, and worked with survivors of the notorious German concentration camp at Belsen – one of whom became his wife.
He devoted much of his later years to keeping alive the memory of those soldiers who fought alongside him in World War Two but never came home.
Four years later, as D-Day approached, he was a staff sergeant in the Royal Logistics Corps, and was in the second wave of troops during the Normandy landings.
Jos was among thousands of soldiers forced to hunker down on landing craft in the English Channel for four days, battered by stormy seas and with shells flying overhead as the British navy and German defences exchanged fire.
Speaking in 2009, he recalled: "There were lots of aircraft about – bombers and fighters. It was absolutely horrendous. The first thing you did on land was to dig a trench and get in it. If you were unlucky, a shell would land on you."
The battle for Hill 112, which overlooked the city of Caen, 10 miles from the landing beaches, lasted several weeks and saw 7,000 British soldiers killed or wounded.
Jos's 43rd Wessex Division took so many casualties before it helped to capture the hill that teenagers with just three months' training were drafted in.
"They would join us and within 24 hours we were burying them. There is a whole generation of young lads buried in those cemeteries in Europe."
Years later Jos still became emotional as he recalled carefully wrapping the remains of a soldier hit by a bomb in his blanket and burying him in a makeshift grave.
Having survived Normandy, Jos was sent to reinforce the beleaguered army at Arnhem in September 1944 before helping the Allied effort elsewhere in Holland.
Some 60,000 prisoners were found inside, many close to death. Thirteen-thousand corpses lay unburied.
The British set up a displaced persons camp at a former youth hostel. Here Jos met a young Polish woman called Erica.
They fell in love and were married by an army padre on March 26, 1946.
After the war Jos served in Borneo as the transport officer for the Gurkha Brigade based there during the Malayan Emergency. He spent another 30 years in the army, rising to the rank of major.
He and Erica had four children. On Jos's retirement they settled in Carlisle.
Jos became president of the Carlisle and Stanwix Branch of the Royal British Legion, and was later made honorary life president. He was a strong supporter of the legion's annual Poppy Appeal.
Jos was also president of the Carlisle Normandy Veterans Association, until it disbanded due to dwindling membership.
By now a great-grandfather, Jos spent much of his later years visiting schools to discuss his wartime experiences, and to ensure that future generations were aware of the sacrifices made by their forefathers.
He recalled: "They always ask about the medals. They think they are chocolate and want to know where you can buy them. I say 'You can't just buy them, you have to earn them!'
"I relate some experiences and tell them war is a terrible thing."
In 2016 Jos was diagnosed with cancer and underwent chemotherapy, preventing him from carrying out school visits.
He still managed to attend memorial events. The last of these came in Carlisle last November. He attended the Young Persons' Armistice and, two days later, Remembrance Sunday. On both occasions he spoke and laid wreaths to fallen comrades at the city centre cenotaph.
Jos's medals included a recent addition. Shortly before his cancer diagnosis he was given the Legion of Honour – France's highest accolade – for his role in the capture of Hill 112.
Despite his failing health, Jos was keen to attend the D-Day 75th anniversary event in France this June.
Speaking in 2009, ahead of his visit for the 65th anniversary, he said: "When you go back and you go to a cemetery and stand in front of a grave, you remember and you think 'My goodness, that could be me and he could be visiting me.'
"You feel closer to them. It brings back the action that took place and all the noise that went on. It is a terrible tragedy that we lost all those lives. But we are fortunate that we are living in a peaceful country. If the Germans had got here, we would not be."
Jos was surrounded by his family when he died at Penrith Hospital last Saturday.
Former RAF officer Tony Parrini is secretary of the Royal British Legion's Carlisle and Stanwix branch.
He says: "Jos was a great friend to us all. A humble man. Always willing to tell his story. Not necessarily out of pride in what he did, but because he wanted to ensure that those who lost their lives in World War Two would never be forgotten."
The Royal British Legion's announcement of his death quoted lines from The Lady of the Lake, a poem by Sir Walter Scott:
"Soldier, rest! thy warfare o'er, Sleep the sleep that knows not breaking; Dream of battled fields no more, Days of danger, nights of waking."
Jos's funeral will take place at 1pm on Monday March 4 at St Cuthbert's Church, Carlisle. Royal British Legion members and forces' veterans will form a guard of honour to the church door. The service will be followed by interment at Stanwix Cemetery.
Archive
24th February 2019
4,418 total views