Norman J. Gallagher (RCAF Chaplain)
Norman Joseph Gallagher, son of James Gallagher and Marion McPhee, was born in Coatbridge, Scotland in the Archdiocese of Glasgow on 24 May 1917.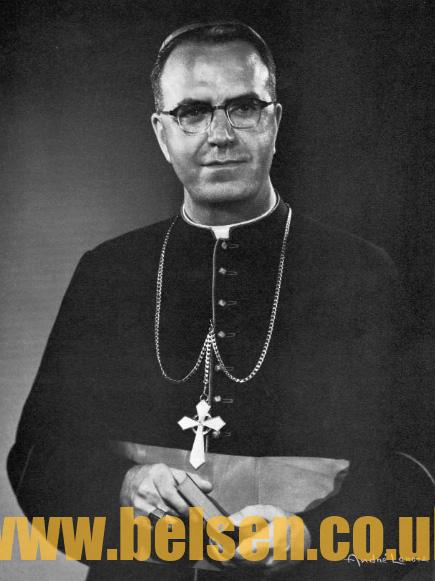 Little is known of his family in Scotland except that his father was a blast furnace keeper and that Norman was one of eight children. In 1923, he moved with his family to Canada where they first settled on a farm in Saskatchewan and within a year took up residence in the town of Swift Current.
The Second World War had a profound impact on the religious career of Father Norman Gallagher. On 14 October 1941 he enlisted as an Active Auxiliary chaplain in the Royal Canadian Air Force and then transferred to the Active Reserve Force on 7 April 1942. There is no evidence in his early papers or correspondence to suggest why or under what circumstances he was drawn to this apostolate over tradi-tional pastoral work in rural Saskatchewan. Perhaps like many young men in Canada he responded to a call to serve his country during a time of war.
Whatever the reason,at 25, he began a long and distinguished career as a chaplain in the Royal Canadian Air Force. After having served in various units in Canada, his first posting overseas was at the picturesque resort town of Bournemouth. Early in the war Bournemouth became the reception centre for air force personnel from Canada, Australia, and New Zealand. By the time the British Commonwealth Air Training Plan had become fully operative, Bournemouth received 25,000 to 30,000 servicemen annually. Here, the role of Roman Catholic chaplains like Father Gallagher was to administer the sacraments and to promote and maintain high morale among soldiers preparing to enter the main theatre of war in Europe. On 6 June 1944, together with chaplains from most other Christian denominations and four other Roman Catholic chaplains, he landed on the beaches of Normandy, France with the 2nd Tactical R.C.A.F. Unit.
4,982 total views