Alan Moore, Lt. Australian Official War Artist.
An informal group portrait of soldiers of the Welsh Guards who liberated the Belsen concentration camp on 15 April 1945. All are unidentified except for an Australian official war artist, VX93880 Lieutenant (Lt) Alan Moore (front row, second from the left wearing a beret).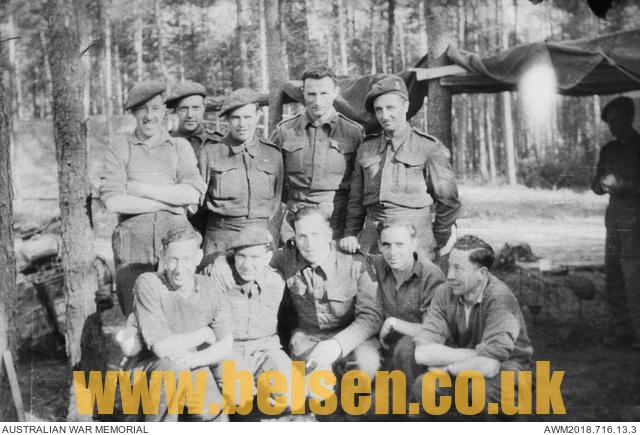 Lt Moore was briefly attached to this British unit during his war time service with the Australian Army. Whilst at Belsen, Lt Moore made several paintings, sketches and drawings as a record of Nazi atrocities committed against the predominantly Jewish inmates. A personal camera was also used to record events observed in the Allied occupation of the camp and these black and white images also provide witness to one Australian's experience of the Holocaust.
***
Moore enlisted in the Royal Australian Air Force (RAAF) in 1942, where he was tasked with drawing airplane diagrams. A problem with one leg prevented him from being aircrew. In late 1943, following recommendations from artists William Dargie and Harold Herbert, he was commissioned as an official war artist attached to the army, and given the rank of lieutenant.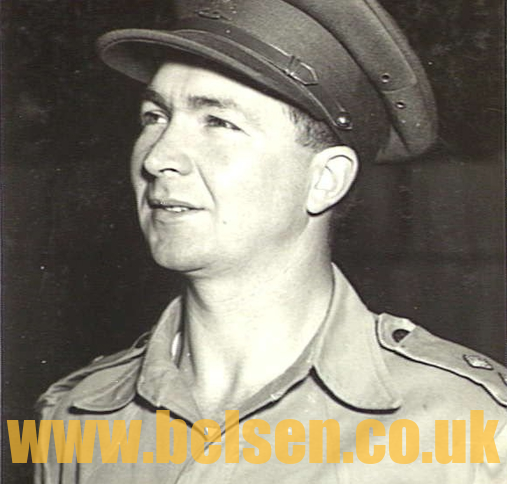 Moore's first deployment as an artist was with the RAAF in Papua New Guinea in early 1944. His earlier watercolour paintings, made in Milne Bay and Goodenough Island, were destroyed by wet weather and humidity; he subsequently changed to working with oils, which were more suitable for the tropical environment.
During his time in Papua New Guinea he flew in several bombing raids to make sketches from the air.
Towards the end of World War II, he recorded war scenes from Papua New Guinea, the Middle East, Italy, England and Germany.
In 1945 Moore accompanied the British 11th Armoured Division when they liberated the Bergen-Belsen concentration camp in Germany. He spent three days sketching and painting the state of the camp, its prisoners and their captors, including Fritz Klein. It was suggested by one soldier that nobody would believe the portrayals, prompting Moore to also photograph the scenes as proof.
Born: 1 August 1914. Melbourne, Australia
Died: 24 September 2015 (aged 101), Ballarat, Australia
4,035 total views