John Goff Kilner (Medical Student)
Middlesex Hospital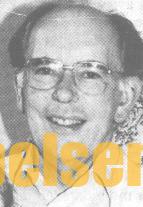 John Goff Kilner won a scholarship to St John's College, Cambridge, where he had the distinction of stroking the Lady Margaret boat to the head of the river in 1944. He did his clinical training at the Middlesex Hospital, where, like his father before him, he was a Broderip scholar. He was in a party of senior students who went to do relief work at Belsen concentrationcamp, an experience that made a profound impression on him. He graduated in 1947 and in the same year married Pamela Peckett, also a doctor, who, sadly, diedi n 1969. He served in the Royal Army Medical Corps before entering general practice in Epsom in 1952.
John became particularly interested in old people and was chairman of the Epsom and Ewell Housing Association for the elderly. He also served on the district health authority and was chairman of the district management team and the division of general practice. He was known for his unfailing patience and kindness and for his sense of humour.
In1971 John married Anne Wilkinson. Apart from his family and medicine his great loves were natural history and his narrowboat, Florrie. He was a skilled photographer and made delightful nature films, which won him many prizes including the Daily Mail trophy for the best amateur film of the year in 1970. Shortly before his death he had completed a film about badgers. He is survived by his wife, Anne; three sons; and three step children. Two of his sons are doctors, one of whom is carrying on the Kilner tradition of general practice in Bury St Edmunds
Died suddenly in Epsom on 7 June aged 64. He was fifth in the family line of general practitioners, his predecessors having practised in Bury St Edmunds, where he had intended to retire. John Goff Kilner won a scholarship to St John's College.
Ref: BMJ
4,723 total views