Eric Brown – Royal Navy Pilot & Interrogator
British war veteran has told ITV News of the horrors he witnessed when liberating the Nazi's Bergen-Belsen concentration camp, 70 years ago.
Eric Brown, now 96, recalls the "terrible stench" he was met with when he entered the camp holding 60,000 prisoners as a young Royal Navy pilot in 1945.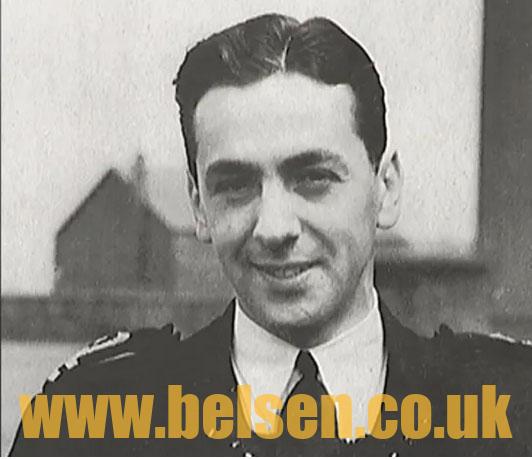 "The first thing that struck me as you walked in were these mounds of bodies – I'm not exaggerating when I say they were as high as the ceiling," he told Paul Davies.
Mr Brown said many of the starved and over-worked survivors "looked like zombies" and were unaware their German guards had surrendered.
"I found as many as seven in a bed. They were all dying, no question about that. The stench was unbelievable."
Brown, who was fluent in German, was responsible for interrogating the camp's commander Josef Kramer – who was known as the "The Beast of Belsen".
He described the notorious commander as a "bully" who showed no remorse for the thousands of deaths he was responsible for.
"He had been put in a position of power and he was going to exercise it."
He also recalled what happened when he interrogated Irma Grese, who tortured female prisoners at the camp.
"I asked her four times [whether she had any regrets over her actions] when she suddenly leapt to her feet and with a salute called out at the top of her voice 'Heil Hitler' and sat down again.
"We never got another word out of her."
Both Kramer and Grese were tried and hanged for their crimes.
After his role in liberating the camp, Eric Brown returning to his job as a test pilot where before he retired, he set a record for flying almost 500 different types of aircraft.
The 96-year-old admits, however, that memories of that day in Belsen stay with him.
"It was a dreadful, dreadful act."
ARCHIVE, April 2015
Additional:

On April 15, 1945 British troops liberated the Bergen-Belsen concentration camp. What they found behind the barbed wire fences was beyond comprehension. Thousands of dead and dying people littered the ground.
Accommodation blocks were overflowing with corpses and sick inmates. The overpowering stench of death filled the air. One man who witnessed the horror was Captain Eric 'Winkle' Brown from Leith, near Edinburgh. Now aged 96, the legendary Fleet Air Arm hero reveals to The Sunday Post what it was like to be one of the first British servicemen to see inside the harrowing camp.
Captain Eric 'Winkle' Brown pauses as he remembers the things he saw 70 years ago this week.
"It was a scene of horror absolute horror," the 96-year-old concludes, his Scots burr clear and precise, yet radiating sadness.
The 26-year-old Leith man shouldn't even have been at Bergen-Belsen concentration camp on April 15, 1945. He was a Navy flier, not a soldier. But a quirk of fate and an overheard conversation meant he was among a handful of servicemen to enter the infamous concentration camp before it was fully taken over by the British 11th Armoured Division.
Captain Brown was one of the most celebrated and experienced airmen the Allies had among their ranks and, in 1945, he was a test pilot with the Royal Aircraft Establishment at Farnborough. With the end of the war in sight it was decided that German aircraft technology had to be secured before it was destroyed or fell into the hands of the advancing Soviet army. A new unit called Enemy Flight was created and, due to his experience and fluency in German, Captain Brown was made commanding officer.
That's how, in April 1945, he found himself at Fassbender airfield in Northern Germany. His mission was to take charge of two German jets, but while there he was overheard speaking to German ground staff by Brigadier Glyn Hughes, Medical Officer of the British 2nd Army.
This chance encounter would lead Captain Brown to Bergen-Belsen and the horrors contained within its barbed wire fences.
"I was speaking German when Brigadier Hughes heard me," he explains. "He called me over and said 'You speak better German than my translator, I'd like you to come on a two-day mission with me'. I said I could give him a day, so that's how I came to be at Bergen-Belsen."
The camp was still guarded by German and Hungarian troops, but the British Army were about to overrun the area. The German command were aware, however, that typhus was rife in the camp it killed tens of thousands of inmates towards the end of the war and were afraid that if the prisoners were to get out they could spread the devastating disease throughout the local population. So a truce had been called to place an exclusion zone around the camp. A British medical unit, under Brigadier Hughes, were to take charge, assess the situation, begin treatment and supervise the distribution of food.
"Brigadier Hughes wanted me to go along to help him interrogate camp commandant Josef Kramer and warden of the women's section, Irma Grese," says Captain Brown. "He explained it was not official, but as a medical man he wanted to find out what made these two tick."
So he travelled to the camp, not realising the extent of human cruelty and barbarity he was about to witness.
"I knew what the camp was, but did not know the degree of horror we would find when we went there," says Captain Brown. "We were issued with surgical masks and I was allowed to look around the camp in the morning until the interrogation was to take place. I came across inmates walking around, but they were like zombies. Most did not talk. When they did, they stared at the ground, their heads lowered. Then they would step aside and move on."
It was in the accommodation blocks that Captain Brown encountered some of the most distressing sights.
"The buildings were 30ft by 16ft and had been built to house 60 people. When I went in there were 250 people in them. There were sometimes seven people to a bunk. The bunks were arranged on three tiers and the people in the ones above were defecating on those below. Nobody could speak as they were too weak. Everyone was either dying or dead."
After this horrific experience, Eric was called on to begin translating for the interrogation of the camp commandants. Josef Kramer was dubbed The Beast of Belsen by the inmates and was directly responsible for the deaths of thousands of people. Irma Grese was only 21 and had been an SS guard at Auschwitz before transferring to Bergen-Belsen. She was nicknamed The Hyena of Auschwitz by inmates at that camp.
Captain Brown is clear who was the most repellent of the two.
"Kramer was very straightforward. He didn't try to claim he was 'just following orders'. He said he had a dreadful childhood as a result of the Treaty of Versailles, which took his nation's pride and Hitler was the one who restored it.
"But Grese was a different matter. She refused to answer and responded to every question with the 'Heil Hitler' salute. Nothing was too cruel for her. She was the worst human being I have ever met."
After the interrogation of the two Germans who would both later be hung for war crimes Eric left the Hell on Earth that was Bergen-Belsen and returned to his mission to secure the Luftwaffe jets. But the memories of that horrific day are not diminished by time.
Eric pauses again as he reflects on what has stayed with him most. When he speaks again his voice is clear still, but quieter.
"What was worse than the sights I saw was the stench," he says. "70 years on I still can't get it out of my nostrils."
One of our greatest ever pilots
Some live quiet lives, others have lifetimes crammed with excitement and drama. Then there's Captain Eric 'Winkle' Brown. To say he's packed a lot into his 96 years is an understatement.
He was at the 1936 Berlin Olympics, interrogated Hermann Goering and even managed to sing with the Glenn Miller band. He was in Germany in September 1939 when there was a knock on his door and a woman announced the country was at war with Britain. Eric was arrested by the SS, but in a characteristic stroke of luck they merely escorted him in his sports car to the Swiss border.
But the main feature of his incredible life is flying. Captain Eric Melrose Brown CBE, DSC, AFC, KCVSA, PhD Hon FRAeS, RN is one of the greatest pilots this country has ever seen. He has flown 487 different types of aircraft a world record to this day and also holds the record for most aircraft carrier landings, with 2,407 touchdowns at sea.
Not surprisingly Eric is the Fleet Air Arm's most decorated living pilot. He risked death on countless occasions flying experimental planes, and was one of only two survivors of 802 Squadron following the sinking of the escort carrier HMS Audacity in the Atlantic in 1941. As a measure of the man, one of Eric's tricks to bring down V1 flying bombs was to fly up to them at 400mph, tuck a wing tip under the fins and flip them into a nosedive. A true hero in anyone's book.
6,544 total views