Derrick A Sington – 14 Amplifier Unit
On 15 April at the request of GSO, 11 Armoured Division, 14 Amplifier Unit joined 23 Hussars and accompanied them into the "neutral zone" of Belsen Concentration Camp.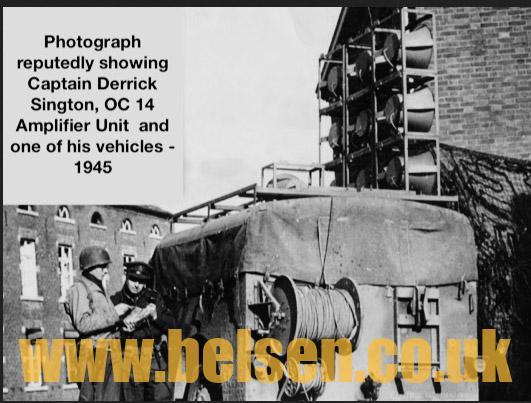 The unit entered the camp at 1500 hrs, being the first British unit to do so and announced on the orders of GOC 8 Corps that, owing to the prevalence of injection (sic) disease, the inmates of the camp could not be immediately released, but that medical aid and food were being rushed up. (A copy of special report rendered to GSO(Ia) 8 Corps is attached to appendix [Appendix missing from war diary]). 14 Amplifier Unit remained in Belsen concentration camp from 15-29 April, carrying out the following main tasks: Interpreting for and assisting Lt.Col. Taylor, CO 63 ATK Regiment RA, the first British commandant of the camp in conversations with SS and Wehrmacht personnel; use of loud-speaker to restore order in the camp; organisation of inmates for first distribution of food in the camp; arrest of collaborators from among inmates of the camp; organisation of an interpreters pool from among inmates of the camp, the marshalling of the first 3,000 "healthy" women evacuated from the camp to the Panzer Training School (in cooperation with 250 Mil. Gov. Det.); allotting of evacuated people to new quarters, carried out by Sgt E. A. Clyne of 14 Amplifier Unit (in co-operation with 904 Mil. Gov. Det.) MORE from this Article…

Derrick Adolphus Sington C/O 14 Amplifier Unit
Born 1908 Chapel En Le Frith, Derbyshire
Married Gertruda F Neumannova (possibly an inmate from Belsen) c1946 in Hamburg.
Died (Probate) 1968
If you can help us with any info on Derrick, please get in touch. Thank you.
3,637 total views