On 15 April at the request of GSO, 11 Armoured Division, 14 Amplifier Unit joined 23 Hussars and accompanied them into the "neutral zone" of Belsen Concentration Camp.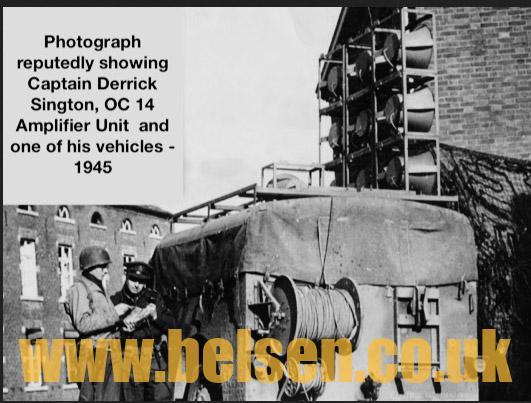 The unit entered the camp at 1500 hrs, being the first British unit to do so and announced on the orders of GOC 8 Corps that, owing to the prevalence of injection (sic) disease, the inmates of the camp could not be immediately released, but that medical aid and food were being rushed up. (A copy of special report rendered to GSO(Ia) 8 Corps is attached to appendix [Appendix missing from war diary]). 14 Amplifier Unit remained in Belsen concentration camp from 15-29 April, carrying out the following main tasks: Interpreting for and assisting Lt.Col. Taylor, CO 63 ATK Regiment RA, the first British commandant of the camp in conversations with SS and Wehrmacht personnel; use of loud-speaker to restore order in the camp; organisation of inmates for first distribution of food in the camp; arrest of collaborators from among inmates of the camp; organisation of an interpreters pool from among inmates of the camp, the marshalling of the first 3,000 "healthy" women evacuated from the camp to the Panzer Training School (in cooperation with 250 Mil. Gov. Det.); allotting of evacuated people to new quarters, carried out by Sgt E. A. Clyne of 14 Amplifier Unit (in co-operation with 904 Mil. Gov. Det.)
Civilian interrogations were carried out during April, on the following subjects:- war-weariness in Westphalia; German listening into the BBC; German treatment of foreign workers; looting in OSNABRUECK; cinema and printing facilities in GREVEN and LENGERICH. Two anti-Nazi Germans, each of whom had spent several years in political prisons or in concentration camps, were interrogated.
Monthly Report (in lieu of war diary) of 14 Amplifier Unit and 19 Leaflet Unit for the month of May 1945
From 1-13 May 14 Amplifier Unit and 19 Leaflet Unit were held in reserve with 8 Corps, in LUBECK. On 13 May at the request of Col. Spottiswode M.G., the units returned to BELSEN-CAMP.
Between 13 May and 31 May the units organised the following facilities at Belsen: A library of 400 books in Camp 3; adult classes in the English language (organised and run by Sgt H.H. Harrison of this unit). Assistance was given to officials of the British Red Cross in the organisation of an international concert of singing and dancing, given by the inmates of the camp in Belsen Camp No 3.
Amplifier announcements were made in Belsen Camp during the month.
About 2,000 copies of 21 Army Group multi-lingual news bulleting were affixed in Belsen Camps 3 and 4, and 1,000 copies of the paper "Mitteilungen".
3,038 total views