Leopold John "Leo" Genn (War Crimes Unit)
WCIT. War Crimes Unit. Arrived 20th May. Produced initial report 22nd June. 14 page document summarised investigators key findings and made recommendations for the cases against key concentration camp personnel.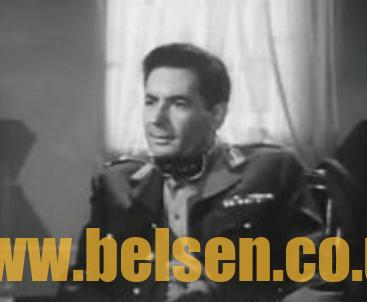 With war approaching, Genn joined the Officers' Emergency Reserve in 1938. He was commissioned in the Royal Artillery on 6 July 1940 and was promoted to lieutenant-colonel in 1943. In 1944 the actor was given official leave to appear as the Constable of France in Laurence Olivier's Henry V.
Genn was awarded the Croix de Guerre in 1945. He was part of the British unit that investigated war crimes at Belsen concentration camp and later was an assistant prosecutor at the Belsen trial in Lüneburg, Germany.
Early life and Family
Genn was born at 144 Kyverdale Road, Stamford Hill, Hackney, London, the son of Woolfe (William) Genn, a jewellery salesman, and Rachel Genn (née Asserson). His parents were both Jewish.
Genn attended the City of London School and studied law at St Catharine's College, Cambridge, qualifying as a barrister in 1928. He ceased practising as a lawyer soon after World War II. On 14 May 1933 Genn married Marguerite van Praag, a casting director at Ealing Studios. They had no children.
Actor/manager Leon Lion saw Genn act and offered him a contract. Genn's theatrical debut was in 1930 in A Marriage has been Disarranged at the Devonshire Park Theatre, Eastbourne and then at the Royalty Theatre in Dean Street, London. Lion had engaged him simultaneously as an actor and attorney.
The career of British-born actor Leo Genn reached its Hollywood peak in 1951 with the Roman Empire saga "Quo Vaids." Genn for his turn as Petronius and Peter Ustinov as Nero were both nominated that year for Best Supporting Actor Academy Awards, losing to Karl Malden for "A Streetcar Named Desire."
Genn died in London on 26 January 1978.
4,833 total views