Major-General James Alexander Deans Johnston
Major-General James Alexander Deans Johnston, OBE, MC (28 February 1911 – 17 May 1988) was a senior British Army officer in the Royal Army Medical Corps and the Senior Medical Officer at the liberated Bergen-Belsen concentration camp towards the end of the Second World War.
Known as Johnnie Johnston.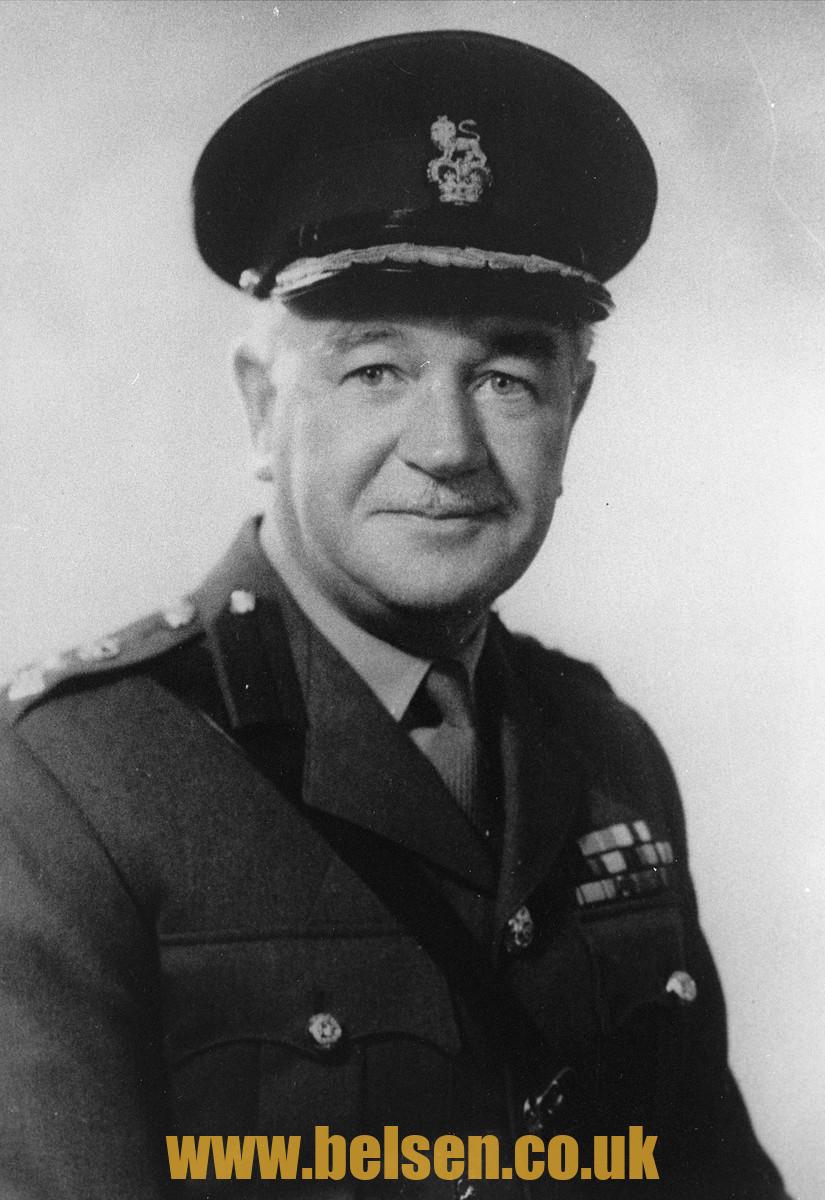 On 6 June 1944, D-Day, he landed on Sword Beach, Normandy along with the 3rd Division. For the next year, he commanded field medical units throughout North West Europe. He was Officer Commanding 32 Casualty Clearing Station. Following its liberation, he entered Bergen-Belsen concentration camp on 17 April 1945.
Under the command of Brigadier Glyn Hughes, he was Senior Medical Officerand director of the Camp II's 17,000 bed hospital.
1. I command 32 (British) Casualty Clearing Station and was Senior Medical Officer at Belsen Concentration Camp.
2. I arrived at Belsen Concentration Camp about 0900 hours on 17th April, 1945.
3. I went round the camp and found that it consisted of one main camp which had been in use for a considerable time and was hutted. This was Camp No. 1, On going into the entrance there were huts occupied by the German Camp Staff. One then passed through a gate in the wire where the main part of the prisoners' camp was. This consisted of three Lager, one male and two female. There was also a female Lager immediately adjoining on the north. The conditions which I shall describe applied equally to all the Lager in Camp No. 1.
4. Camp No. 2 consisted of brick buildings and was in part of the German barracks and lay about one mile from Camp No. 1. I am informed and verily believe that Camp No. 2 had only been in existence for a few weeks.
5. The following is an account of the conditions I saw on entering these two camps on 17th April, 1945. It is quite impossible to give any adequate description on paper of the atrocious, horrible and utterly inhuman condition of affairs.
Camp No. 1.
The prisoners were a dense mass of emaciated apathetic scarecrows huddled together in wooden huts, and in many cases without beds or blankets, and in some cases, without any clothing whatsoever. The females were in worse condition than the men and their clothing generally, if they had any, only filthy rags. The dead lay all over the camp and in piles outside the blocks of huts which housed the worst of the sick and were miscalled hospitals. There were thousands of naked and emaciated corpses in various stages of decomposition lying about this camp. As far as can be ascertained there were some 13000 dead lying around. Sanitation was to all practical purposes non-existent. Pits, with, in only a few instances, wooden perch rails, were available in totally inadequate numbers. The inmates, from starvation, apathy and weakness, defecated and urinated where they sat or lay, even inside the living huts. Ablution arrangements were completely inadequate. There was no running water or electricity. All water was brought in by British water trucks.
Camp No. 2.
Conditions in this camp were improved in comparison with Camp No 1, but only in comparison. The conditions were, compared with any ordinary decent mode of keeping prisoners, vile and evil. The inmates were housed in buildings, 600 to a building of 150 capacity. The inmates appeared better clad and generally less emaciated than in Camp No. 1, but signs of starvation were everywhere. I did not see any corpses lying in Camp No. 2.
Diseases Prevalent.
Camp No. 1. Typhus, tuberculosis and starvation disorders were rife.

Camp No. 2. Enteric, tuberculosis, erysipelas. There was no typhus in this camp.
6. The conditions at both camps, but more so at Camp No 1, were such that deaths in very large numbers were bound to occur from (1) starvation. There was obvious evidence of extreme and systematic starvation both in the living and the dead. (2) Gross overcrowding combined with totally inadequate sanitation. In Camp No. 1 things varied to some extent from hut to hut, but in every case the accommodation was grossly inadequate. It is a fair general statement to say that in Camp No. 1 ten people were being accommodated in space reasonably sufficient for one person, whilst in Camp No. 2 four people were being accommodated in space reasonably sufficient for one person. The sanitation in Camp No. 1 would have been quite inadequate even if this camp had housed only a reasonable number – say one-tenth of those found there. This state of affairs had led inevitably to the outbreak of diseases, particularly typhus in Camp No. 1, the whole aggravated in Camp No. 1 (but not initially caused) by failure to bury the dead.
7. It is impossible to give exact figures, but I have no doubt whatever that many of those who were lying dead and those who afterwards died were killed from the effects of starvation pure and simple, combined with the appalling conditions under which the prisoners were forced to live. Of those who died of disease it is fair to say that the vast majority, at the very least, had been so weakened by starvation as to have no chance of resisting the onset of disease.
8. In my opinion all those in any way responsible for ordering, or carrying out orders, which resulted in the state of affairs hereinbefore described, must inevitably have known that it was bound to result in deaths on a gigantic scale, and that such deaths were the only possible outcome of such orders and the carrying out of such orders.
9. The medical arrangements made by the Germans for the succour of the sick were so grotesquely inadequate as to be fairly described as 'nil.' All those concerned in the German medical services, by failure to provide any adequate succour, were making it quite certain that none of the very large number of deaths arising from the state of affairs hereinbefore described would be prevented, and the German medical services must be held as responsible as all others concerned.
11. It is not possible to tell how long the state of affairs had existed in Camp No. 1, but it would appear probable that they had existed for some considerable period and certainly for two months before I arrived on the 17th April, 1945.
12. It has been impossible to obtain exact figures existing at the beginning as the German authorities at the camp had caused their records either to be destroyed or removed. It would appear that there were approximately 40000 people still living in Camp No. 1, but a number of these were on the point of death from their previous treatment. In Camp No. 2, I was informed that there is believed to have been about 15000 people. The total number who are known to have died since the British entered the camp on 15th April, 1945 is 13000, the majority of whom died within a matter of days and were from Camp No. 1, but there were a number of deaths in Camp No. 2.
Again, it is impossible to give exact details, but it would appear that in Camp No. 1 there were approximately a ratio of two to one as between female to male persons.
13. There were, as on the 27th day of May, 1945. in hospital in Belsen, 11,200 persons, all of course being from Camp No. 1 or Camp No. 2. The total number of deaths on the 27th May, 1945, was 54. There are bound to be a number of further details.
14. From information hereinbefore given it will be seen that at least 26000 people have died, counting only those whose bodies were unburied when the British arrived and those who have died since, despite every medical aid which could be given. It is not known to me how many thousands were killed in this camp before the British arrived, but I have no doubt that it must have been a very high figure.
15. The figures given above are necessarily approximate and subject to such final check as the British authorities can make, but they can be taken as substantially correct.
16. Of those who survive, a very large proportion will be permanently injured in health through their frightful and inhuman experiences, and, in particular, tuberculosis will be rife. Further a very large number of survivors will be, to a greater or lesser degree, impaired in their mental faculties as the result of having been in this horror camp.
Honours
Johnston was awarded the Military Cross (MC) on 10 December 1937 "for distinguished services rendered in the field in connection with the operations in Waziristan, during the period 25 November 1936 to 16 January 1937". He was Mentioned in Despatches on 10 May 1945 "in recognition of gallant and distinguished services in North West Europe".
He was appointed Officer of the Order of the British Empire (OBE) on 18 October 1945 "in recognition of distinguished services during the liberation of prisoners in German Concentration Camps". He was appointed Honorary Physician to the Queen (QHP) on 25 September 1967. He was succeeded on 14 December 1970.
Following his retirement from the British Army, Johnston lived in the village of Northiam, East Sussex. He died on 17 May 1988, at the age of 77.
4,915 total views