Toronto man recognizes himself in Bergen-Belsen photo.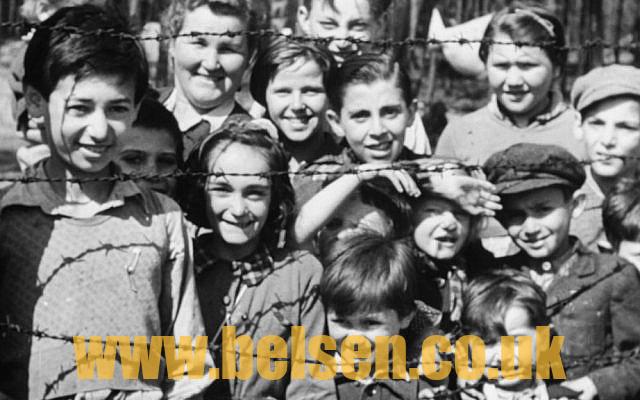 Yehuda Danzig burst into tears as he read The Times of Israel this past Wednesday. As he was scrolling through the site, he had come across a photo of himself and his younger brother Michael at the Bergen-Belsen Nazi concentration camp in northern Germany shortly after its liberation in April 1945.
The photo was a still image from German Concentration Camps Factual Survey, a Holocaust documentary film made 70 years ago with the help of the famous director Alfred Hitchcock. The original footage that makes up most of the movie was shot at Bergen-Belsen, Auschwitz and Dachau by Allied photographers and newsreel cameramen in the weeks after liberation.
The film was left unfinished for close to seven decades and was finally completed by film scholars at Britain's Imperial War Museum. It premiered at the Berlin Film Festival in 2014 and was recently screened at New York's Museum of Jewish Heritage. A version of the film, titled Memory of the Camps, has been screened on public television in North America.
Danzig had never seen that photo — let alone any image — of himself as a 12-year-old Holocaust survivor.
The image brought back many painful memories for Danzig, who settled permanently in Toronto in the late 1950s after moving between the UK, Canada and Israel in the decade following the war.
Although Danzig, now 82, does not remember anyone in the picture other than his brother Michael — who died a year and a half ago at age 79 — he cannot forget the conditions in Bergen-Belsen.
Danzig, who was from Zlate Moravce, Czechoslovakia, arrived at the concentration camp in the late summer of 1944 with his stepmother, two of his brothers and one of his sisters after having survived several transit and labor camps and a death march. (His father was separated from the family and died in the Berga concentration camp, and another sister with disabilities survived the war in an institution.)
Advertisement
"I remember the daily roll calls, which took place no matter what — in the freezing cold, rain or snow," Danzig said. "They were absolute murder during the winter.
"There was nothing to eat and no water, and we were covered with lice from head to toe. We all had typhus and were like zombies," he recalled.
'It was a real shock to see it… I couldn't tell you whether my tears were tears of sorrow or joy'
On April 15, 1945, a British officer walked into Danzig's barracks and announced, "You are free!"
"We didn't have the slightest idea what he was talking about. It meant nothing to us," reminisced Danzig.
"Then someone translated what he had said into German and we started to understand, so we tried to go outside. The dead bodies had not been collected and there were just piles and piles of them so that we couldn't get out of the barracks."
Danzig estimated that the image he spotted in The Times of Israel was captured around two weeks after liberation.
"By that time, we were being taken care of by the British and we had been able to wash and get clean," he said.
Danzig, his stepmother and two brothers and one sister stayed in the Bergen-Belsen DP camp set up near the concentration camp (which the British burned to the ground) only about a month. They were eager to return to their hometown in western Slovakia, about 100 km from Bratislava.
When they got there, they discovered that, other than an uncle who had gone into hiding during the war and lived, no one else from either side of their family survived.
In April 1948, a British rabbi came to Danzig's town looking for orphans. He took Danzig and his two brothers to the UK, where one of them stayed in a yeshiva (he, his sister and Danzig's stepmother eventually settled in Israel). Danzig and his younger brother Michael qualified for relocation to Canada because they were full orphans — their father had been killed in the Holocaust; and their biological mother had died in childbirth.
Upon their arrival in Toronto in August 1948, the young teenage boys were taken in by separate families from the Jewish community. Danzig went to technical school and learned electronics. He also become active in the Habonim Zionist youth organization and ended up spending several years in Israel during the 1950s.
He returned to Toronto in 1958 to marry a woman named Etty, whom he had met through Habonim. They have two sons and four grandchildren.
"Yehuda was never a talker about the Holocaust," said his wife. "He never told our kids about his experiences until they were adults."
Danzig eventually gave his testimony to the Shoah Foundation. His children each have a copy of that. Now they also have the image of their father and uncle that no one in their family knew of until just a few days ago.
May, 2015
The Times of Israel
4,009 total views