Hugh O Hara – 11th Armoured Brigade
This is the horrifying image of young soldier Hugh O'Hara helping to bury thousands of death camp victims after liberating notorious Bergen-Belsen. Hugh, who served with the 11th Armoured Brigade, sits at the wheel of a bulldozer, a white hanky at his face, looking out over dozens of dead bodies.

Then just 20 years old, the terrible scenes of depravity that he bore witness to, of man's inhumanity to man, would haunt him forever. Years later, he was watching television when the image flashed up on the screen — and his eyes filled with tears.
His own son, Gerald, who was ten at the time, recalls: "My father was a big man, a strong man, and I never saw him cry, but he was staring, transfixed, and his eyes were full of tears.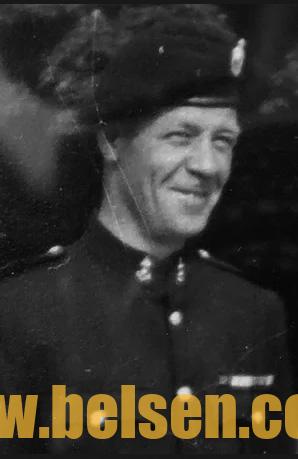 "He was haunted by that photograph. The picture didn't seem real to me — I couldn't believe what I was seeing."
'The living were lying among dead' "I was still trying to take it in — the bodies, the bulldozer and the white hanky, when he turned to me and asked: 'Do you know who that man is, son? It's me'."
Hugh had been one of the first through the gates of the notorious camp where at least 50,000 people died.
The grainy black and white image was taken in April 1945*, as the Allied soldiers set about the grim task of burying thousands of Holocaust victims.
"When they got to the camp they found thousands of bodies and the living were lying amongst the dead. At first they didn't know what they were looking at. He said it was a horrible thing and people were being sick. Later they went to Belsen village and dragged the locals out of their homes to ask about it but they clammed up and denied all knowledge.
"The Allies also rounded up all the German guards who hadn't run away and made them help with the burials.
"I saw the programme years later and asked him about it then, but he just said: 'What you see is what you see'."
Hugh also served with the Royal Engineers, possibly in Korea, before being demobbed in 1952. Three years later he joined the Territorial Army as a drill sergeant, before leaving the Army in 1959. Sadly he died in 1978, aged 54.
* IWM Photo ref BU 4058. Photo dated on card 17th April, 1945, with IWM caption Production Date as 19th April, 1945.
6,212 total views