Bill Diack, who received the Legion d'honneur in 2017, was among the Scots who strove to ease the suffering of the Belsen victims.
The 96-year-old, from Aberdeen, said: "We had never seen anything like it before. A lot of the prisoners were in a pretty awful state and many still died. Our medical people got in and did the very best they could, but we arrived too late for many of them.
"They were just skin and bone. And a lot of them were very ill (with infectious diseases), which meant we were told that we couldn't go in and help them.
"We were desperate to come to their aid, but there was nothing to be done for them."
That mixture of helplessness and anger was shared by his compatriot, Ian Forsyth, who has never exorcised the mental scars which enveloped him at Belsen.
He said: "The first thing that hit you was the stench; an awful, greasy smell. We were completely unprepared for what we found. When we arrived (in early April), the camp was still under German control and they had a garrison inside with guards standing right in front of us, while high-level discussions were going on about surrender.
"In war, you witness first-hand the depths to which humanity can sink. I was thunderstruck by what I saw – it was the first time that I realised exactly why we were fighting the war. And I saw things which I did not believe could be true.
"When we passed nearby villages, we tried to find out more about how this could have been allowed to happen, but people said they knew nothing. Which was impossible."
Even now, 75 years after the liberation of Belsen, Bill Diack's words convey the horror of what happened at the concentration camp.
"We had never seen anything like it before," he said quietly. "The inmates were just skin and bone. And a lot of them were very ill and we couldn't help them."
The 96-year-old former wireless operator, gunner and tank driver served in the Fife and Forfar Yeomanry, 11th Armoured Division, which was also known as "The Black Bull" during the Second World War.
After landing in Normandy on June 8, 1944, he was involved in the fight to liberate Caen and the battle of the Falaise Pocket.
The regiment was responsible for several major victories during the Battle of Normandy in 1944 and at the forefront of advance across France, Belgium, and the Netherlands and the Rhine crossing in March 1945.
Mr Diack, who subsequently worked as a security guard and postmaster for The Press & Journal, and played Highland League football for Keith, is one of the last survivors of the conflict, but his memory is sharp.
After working for Davidson & Sons paper mills in Aberdeen, he joined the army in 1942 and his forces life began in Blackpool, where he was sent for training.
He soon became renowned for his tank-driving skills and entered Normandy two days after the D-Day landings before progressing to Caen, where he thought he was going to die in a field fire after myriad bombs had landed.
"Bombs were raining down on us," he said.
"We were in a field and almost every part of it was on fire. We were surrounded. I was shaking like a leaf, I thought I was a dead man.
"We had German Messerschmitts coming through villages at 50ft with guns blazing."
As the division advanced towards the Belsen camp, where 70,000 people died, a German soldier approached them, holding a white flag in the air.
Mr Diack spoke of his shock at the misery and squalor he witnessed.
He said: "A lot of the prisoners were in a pretty awful state. Our medical people got in and did the best they could, but we arrived too late for many of them.
"I've never forgotten these scenes, nor how these poor people were beyond our help, although we were desperate to come to their aid."
Bill Diack made his way through Germany with his regiment in the spring of 1945 until the soldiers stopped for the night on April 14 at Thoren, a small village 12 miles south-west of Belsen.
He later told his son, also Bill, what happened next.
"After passing through (the village of) Belsen without any trouble, the line of tanks came to a halt because a German officer had appeared round a bend in the road, walking towards them waving a large white flag.
"The commander of the regiment was called for and he spoke to a German officer, who explained that an internment camp lay ahead and typhus had broken out in the camp.
"As the Germans had run out of medical supplies and they did not want the British soldiers to go into the camp unprepared, the officer proposed that they call a temporary truce to the fighting.
"This would allow the Germans to retreat about six miles and the British to enter the camp prepared for the medical emergency they were about to encounter."
A few German soldiers remained at the camp to prevent any escape attempts which could have sparked a typhus epidemic.
The British soldiers were then issued with DDT, a powder to dust down on their uniform and equipment to protect themselves and the tanks advanced to the gates.
Mr Diacks son said: "My father was in one of the leading tanks and, as they approached the camp, they began to see barbed wire and then what looked like skeletons lying on the ground.
"They then realised that some of the 'skeletons' were moving and they did not understand what they were looking at.
"As they neared the main gate, the commander of the tank column went ahead, spoke to some Germans who were waiting at the gate, and came back to tell the tanks to drive on, and on no account to enter the camp, no matter what they saw, or what the prisoners on the other side of the fence might plead with them to do.
"The 2nd Fife and Forfar Yeomanry were then ordered to advance towards Hamburg and leave the camp in the hands of the Royal Army Medical Corps, who had been called upon to get there as soon as humanly possible."
Mr Diack returned home on April 25, 1947.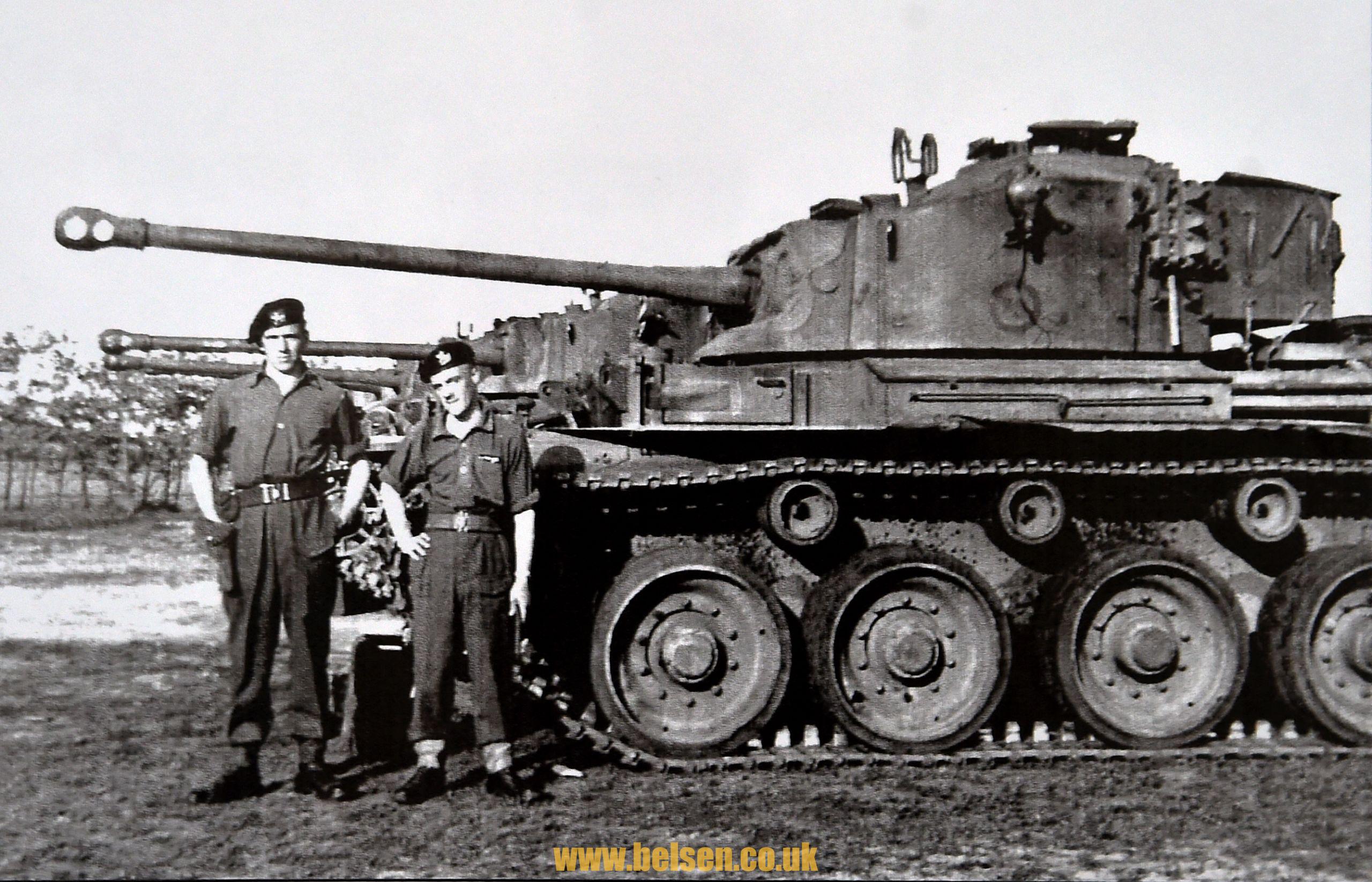 His son and his wife and daughter visited Belsen last September, and described it as a "sobering" place to visit even 75 years on.
He added: "What was life-affirming, though, was the attitude of the young guide who took us around that day, and how the camp was being used to ensure that the people who died there would never be forgotten and also to educate people to make sure that what happened there would never be forgotten and never repeated."
After the war, he spent two years engaged in training allied forces in Germany to use the most up-to-date equipment
While there, he listened to his beloved Aberdeen win the Scottish Cup in 1947. The season-ticket holder, who has been going to Pittodrie since the 1940s, added: "I was able to get a wireless from a German for a couple of hours for a packet of cigarettes."It was the first time we had won a trophy, so I had to listen to it."
He met the love of his life Dorothy while at the paper mill, and they were wed in 1949.
During their 68 years of marriage, they had three children, Bill, Alison and Jill.
4,029 total views