My Dad's older half Brother, Uncle Albert. (Top right in the picture above the swastika flag) was at the Liberation of Bergen-Belsen Concentration Camp.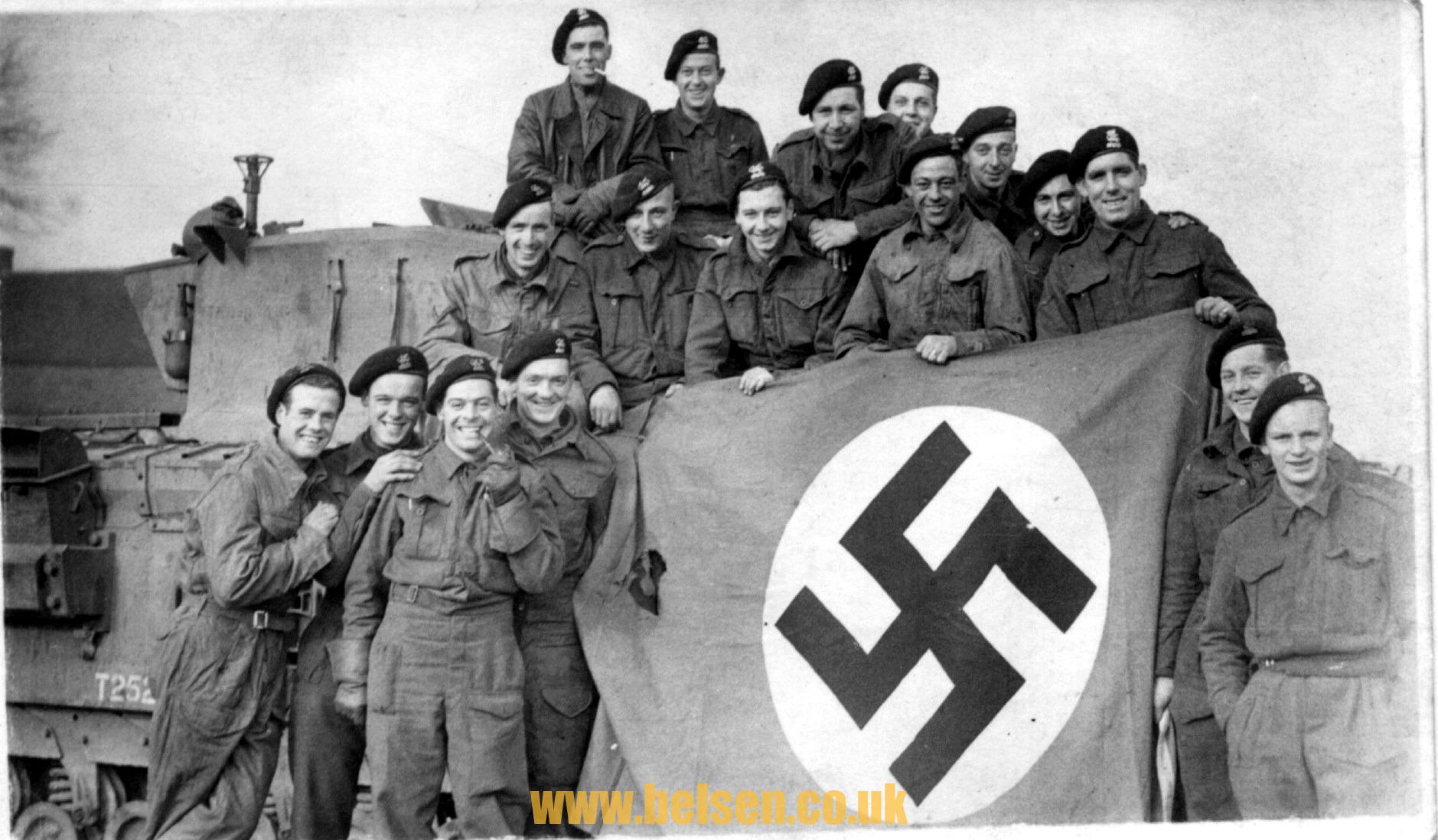 Albert was the second oldest Brother, his surname was Drew, and he was one of two boys from the marriage of my Grandmother and her first husband, Harry Drew, an Army Deserter and Deal Porter who worked in the Surrey Docks and the Canals of Peckham before World War 1. Deal Porters like Harry carried huge loads of "Deal" or wooden planks, on their shoulders offloaded from barges to be shipped off on horse drawn carts to builders merchants and carpentry shops. This was a really tricky job requiring skill and massive strength, negotiating narrow walkways between boats, docks, and canals, with a hundred weight of lumber on your right shoulder. Unfortunately Harry missed his footing one day, and was plunged into the filthy water of the Docks and pinned under the weight of lumber he was carrying. He was pulled out alive, but had taken in a lot of the filthy dock water, and he died a few days later from Pneumonia.
My Nan was left to bring up two sons and a daughter on her own. Things looked up when she met my Grandfather, Arthur Patrick McNeil, a Foreman in a Tin Works, they fell in love and married, he went off to fight in World War 1, and managed to survive, although damaged by gas.  They raised three sons and two daughters, as well as a daughter who died young from a measles outbreak after World War 1.  The boys grew up, and like Arthur, went off to War when World War 2 broke out.
Their adventures formed the background that I grew up with, and each one had their own little twist to their experiences on the battlefield.  Many years later, when I was all grown up, and they were all dead, except for my Uncle Sid, I heard a story from Uncle Sid that had never been mentioned before.  I was speaking with Uncle Sid by phone as he lived in Australia, where he had emigrated to after the War as a "Five Pound Pom".  Sid lived in a Sidney suburb called Cabramatta, what he called "the wild west" of Sidney because of all the drug gangs and shoot outs there. I mentioned the picture of Uncle Albert on his Tank with the Nazi Flag, and he started telling me the usual funny and exciting stories about Albert fighting his way across France and capturing the Nazi Flag shown in the picture, then appearing on the front page of the Daily Sketch for his efforts. He then dropped a bombshell,  Uncle Sid asked me if I knew that Uncle Albert had helped Liberate Bergen-Belsen Concentration Camp.
I was quite shocked to hear this, as it had never been mentioned before. The story unfolded that Uncle Albert and his Tank Regiment had been sent to Bergen-Belsen because the Germans had asked for a temporary truce because of an outbreak of Typhus at the Camp. A group of Tanks went fully prepared for a trap (if an officer from HQ told you that it was safe to enter an area, it was always assumed that you were actually going in to the area to see IF it was safe!).  The first Tank took the gates of the camp down by driving straight through them to make sure the Germans inside knew they meant business. They entered what they thought would be some form of Prison, but instead found Hell on Earth.
These were men who were by no means soft. My Uncle had killed at a distance, and close up, they risked their lives every day, he understood that sometimes it was just you or the bloke you were fighting, it wasn't personal.  Jumping out of their Tanks and forming a perimeter, they were met with heaps of bodies; civilians, men, women, and children, casually stacked like sacks of rags. At first this scene of death was accepted as just a result of disease, but gradually it dawned on the British Soldiers that this was more than that, these people had been starved and worked to death. Still they didn't quite blame the Germans as there were so many bodies, and it looked as if the German Camp authorities may have just been overwhelmed by the numbers that they couldn't deal with.
As they moved further into the camp, and saw the arrogance and contempt of the guards for their charges, the penny dropped, and it became obvious that this was, if not a death camp as such, still a place were the weakest and most defenceless were worked to death, and allowed to die stripped of all human dignity.  The anger in the men began to rise.  Even in battle they had not seen horror on this scale, or with this level of casual sadism.
It is worth saying again that my Uncle and his comrades weren't soft, they killed for a living, and weren't particularly bothered by it in the heat of Battle.  They had had a world of compassion knocked out of them by a combination of a hard upbringing in the back streets of South London, and participating in the terror of armed combat, but this was something different.  Such pointless cruelty against people who couldn't defend themselves was beyond their grasp.
While they were trying to take all this in, shooting was heard, and Albert and his friends found some of the young German guards, many barely more than psychotic teenagers, shooting starving inmates for trying to take Potatoes from a pile behind one of the huts. The damn broke, and Uncle Albert and his friends shot some of the guards, and knocked others out cold with fists and pistol buts. As is always the case with sociopathic bullies, once faced with men who could fight back the Nazi guards suddenly lost their appetite for a fight, and instead bolted to the Camp Kommandant for protection. Luckily for them, some British Officers intervened, and warned the Kommandant that if any more inmates were shot, then the British would line up and shoot the guards on a one to one basis. Despite being flabbergasted that inmates stealing food would be allowed to get away with it, the Kommandant had no option but to agree.
Once the camp was secured, other units came in, and it was deemed sensible to move the Tanks on for good Military reasons, and to make sure Uncle Albert and his mates didn't risk getting put on a charge for shooting any more Nazis without due process, which was highly likely to happen.  The war was nearly over at this point, but those last few months were pursued by Uncle Albert and his Regiment with renewed ferocity. The young men who had come from the back streets of South London to fight in Europe had been hardened by the experience, but knew that were fighting for the right reasons when they entered Bergen-Belsen.
Paul McNeil
5,266 total views