This kit, wrapped in a green canvas cover, contains some of the equipment used by an army medical officer when on active service, and includes scalpels, clamps, scissors, forceps, a hammer and tins of cat-gut and silk-worm gut ligatures.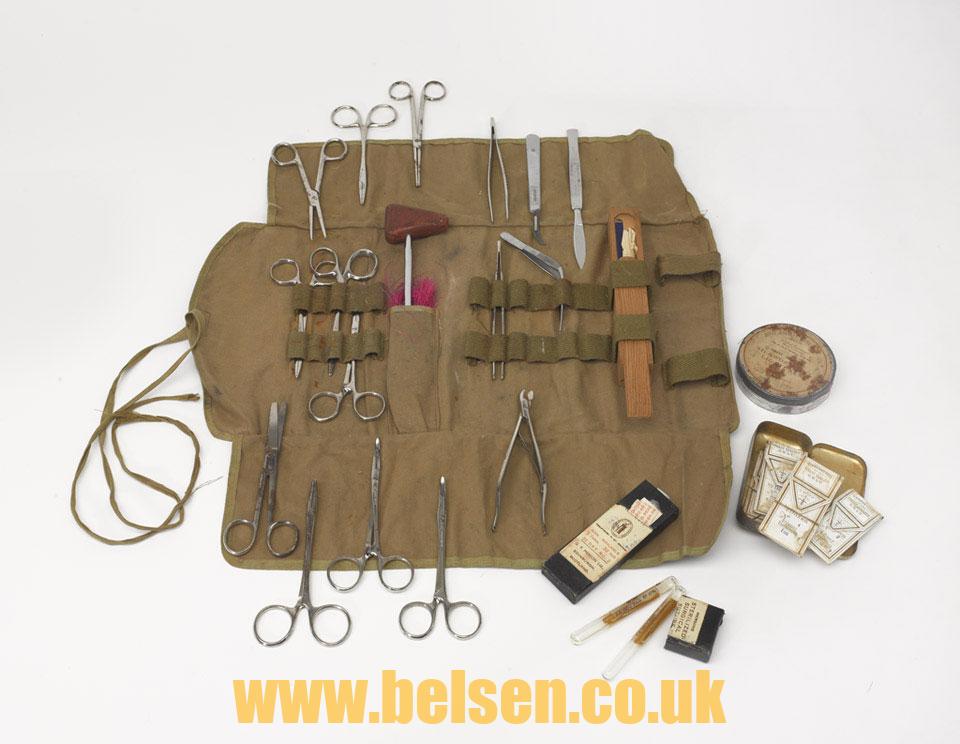 John Russell Grice was born in 1918 in Holytown, Lanarkshire and studied medicine at Glasgow University (1936-1941). He was Resident House Surgeon in the Glasgow Royal Infirmary for eight months before joining the Royal Army Medical Corps in December 1942. Grice served in Britain as a Medical Officer (MO) with 143 Field Ambulance and then 34 Casualty Clearing Station before being deployed to France in the aftermath of the Normandy landings of June 1944.
From August 1944 he worked as a Regimental MO with 109 (Royal Sussex) Light Anti-Aircraft Regiment in the Netherlands. In January 1945 he was appointed to 24 Field Dressing station, eventually becoming its commanding officer. During service with the latter he was sent to the recently liberated Belsen concentration camp in April 1945 to assist with the relief effort.
Post-war service in Germany followed, including the treatment of German prisoners of war and displaced persons as well as British military personnel. On demobilisation in May 1946 Grice was the commanding officer for 174 Highland Field Ambulance. After the war Major Grice became a General Practitioner in Rochdale.
3,033 total views