Today (3.12.2013) at Hartshill Cemetery, Staffordshire a lady spoke to me while visiting a grave.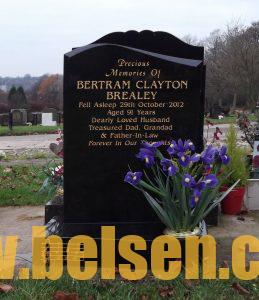 During the conversation we touched on a military subject and she said that her late husband had been in the army and was at at the liberation of Belsen Camp, in fact he was the first tank to arrive at the camp. She went on to say when he was at the camp the women came forward asking for milk for their babies and he could see that many of the babies they carried were dead, a memory he never lost.
The grave she was visiting was her late husband's and she gave me permission to photograph it and to upload it onto this site. She also gave me the following information – he was (rank not remembered) No 114726 Bertram Clayton Brealey of the Oxfordshire Yeomanry.
On April 15th 1945, 249 (Oxfordshire Yeomanry) battery of the 63rd Anti-Tank Regiment Royal Artillery liberated the camp at 2.30pm. Lt Colonel Dick Taylor ordered subordinates to enter the camp with a loud speaker van.
Source: 28th61st (From Staffordshire) Military Images.net
Also ref to Berkeley on Wikipedia (same image and text)
4,387 total views